We are living in a time of great change within our Church with new ideas and more active lay participation being introduced especially within Funeral Ministry / Ministry of Consolation.
Funeral Ministry is becoming part of the norm as local communities respond to the call of service in this particular way. Funeral Ministry has been in place in Clonakilty since September 2016 is now expanding into Parishes as volunteers come forward and Diocesan support and training is provided. During the month of May and June training and commissioning of volunteers has been part of the way forward as the Family Of Parishes settles into new ways of attending to the mission of Church.
Funeral Ministry Clonakilty welcomed 2 new members, Ber O'Sullivan and Noel Lynch along with two new members Padráig McCarthy and Gerald Butler in Ardfield/Rathbarry; Rose Finn in Barryroe and Aoife Kelleher in Timoleague.
With existing and new members lay people and clergy will be working together in a rota system to be there for families and friends at the death of loved ones. These are early steps in the ministry as team co-ordinator Carmel Ryan will be working in harmony with all involved as this new family of parishes becomes established.
Congratulations to all, and we wish them God's blessing in their new role in the ministry of Consolation. May these new changes fill us with hope for our future.
The prayers of God's Holy Spirit will be offered and sought for and by all.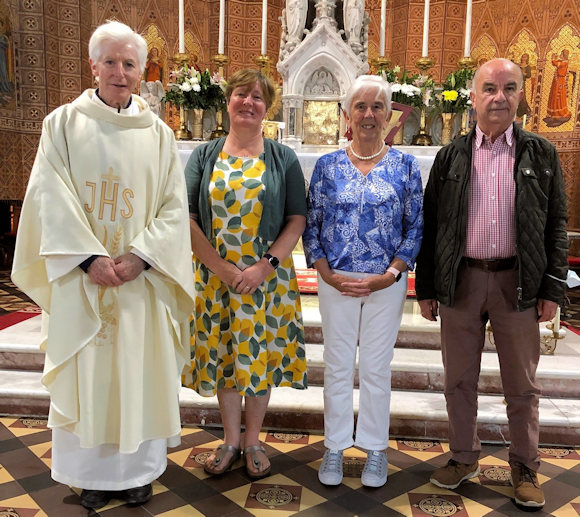 Monsignor Aidan O'Driscoll, Ber O'Sullivan,
Carmel Ryan (Team Co-ordinator) and Noel Lynch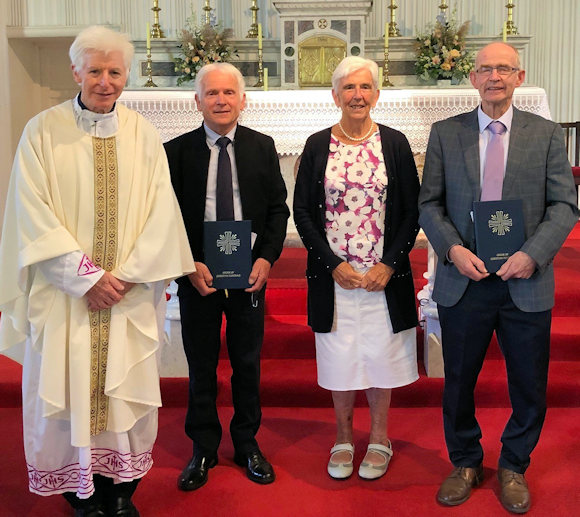 Monsignor Aidan O'Driscoll, Padráig McCarthy,
Carmel Ryan (Team Co-ordinator), and Gerald Butler